Event Period: January 03-05 23:59 EST(GMT-5)
Event Content:
Access the list of events by tapping the Notice button:

Select "Flip & Win" and tap on "Join Now" to enter the Event page.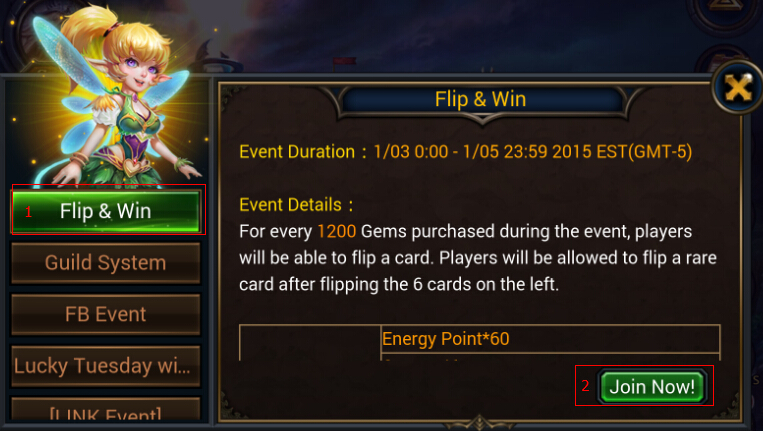 Players who have purchased the required amount of Gems will be able to flip the cards on the left. Players will be allowed to flip a rare card after flipping the 6 cards on the left.



Players can tap on "History" 

 to find out previous flips' date and rewards.





Event Rules:
1. During the event, players who have purchased 1200 Gems (not including free Gems) will be able to flip a card. Once all 6 cards on the left have been flipped, the player will be able to flip a rare card for free.
2. All rewards received from the event will be sent to players via in-game mailbox.
3. Because the in-game mailbox can only hold a maximum of 50 messages, players should ensure that they have enough room in the mailbox to prevent any unnecessary loss of rewards.
4. Players are advised to use all of their flips before the end of the event as the event page will be removed on the event's last day at 23:59. From the end of the event to 23:59, players can continue to flip cards but Gem purchases will no longer grant flips.
5. The Deck Heroes team reserves the right to final interpretation of this event, its rules, and its rewards.



Signature
Welcome to Deck Heroes!