Draw 5x at the Altar using Coupons during the event to enjoy fabulous rewards!

Event Period: Jan 21 0:00-Jan 21 23:59 EST(GMT-5)


Event Rewards: 
Draw 5x Creatures at the Altar -
Use Draw 5x a total of 5 times to win 150 Energy. 
Use Draw 5x a total of 10 times to win 250 Energy.
Use Draw 5x a total of 20 times to win 400 Energy.  
Use Draw 5x a total of 30 times to win 550 Energy.  

Event Rules:
1) Limit one reward per account.
Eg, A player who uses Draw 5x with Coupons a total of 15 times during the event will only win the reward for drawing 10 times and not the reward for drawing 5 times.
2) Rewards will be delivered to your in-game Mailbox within three business days after the event ends.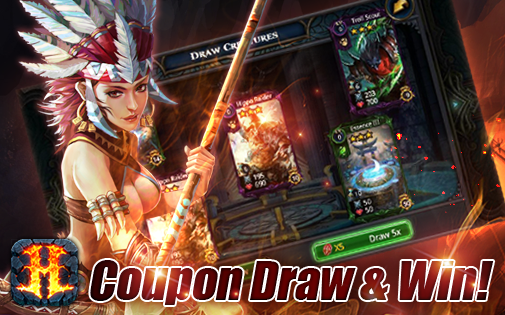 Signature
Welcome to Deck Heroes!