1. Currency
Gems: This premium currency can be bought and spent in-game to get lots of useful benefits that will allow you to level up faster and get other advantages. Gems can be used to buy Energy, draw Creatures and Heroes, reset Mazes, and more. Your first Gem order will also awarded bonus Gems. You can also occasionally earn Gems in-game for free.
Coins: This is the common currency of the game. Spend Coins to draw Creatures from the altar or enhance Creatures. You can earn lots of Coins from Mazes.
Glory: This is an important resource required for enhancing Heroes. You can earn lots of Glory from Raids.
Coupons: This is a rare currency that can be used to draw Heroes from the altar. Complete Daily Quests to earn Coupon Shreds that can be fused into Coupons.
Credits: Credits can be earned from Trials and are used to buy items in the Credits Mall.

2. Altar
Increase your Power exponentially by Drawing Creatures at the Altar!
There are currently 3 types of draws available at the Altar.
-Draw with Gold: You can draw 1-3 Star Creatures and Enhancement Materials.
-Draw with Coupons: You can draw 2-5 Star Creatures.
-Draw with Gems: You can draw 3-5 Star Creatures.




3. Maze
Clear the last Dungeon of any area on easy mode to unlock a Maze.
Roaming the Maze: Spend Energy to complete dice rolls to find out how many steps you can take in a Maze.
Chest: Land on a tile with a Chest to open it for a chance to win rare Creatures. You can also spend Coins and Gems to upgrade your Chest for better prizes.
Events: Landing on a '?' icon initiates a random event. You might get free Coins and Energy or even engage in a Maze Battle with another player.
Maze Guardian: Defeat the Maze Guardian to earn EXP, Coins, and occasionally Creatures. You might even win 5-Star Creatures!
Maze Reset: You can reset a completed Maze for free once daily. STAR Members are entitled to an additional free daily reset. Gems can also be spent to reset a Maze for multiple times.




4. Trials
Unlocks at Lv 21. Tap Trials to enter this feature.
Initiating a Trials Battle doesn't consume Energy. You can revive twice a day to return to the Trials. The highest Trial Floor you reach on any day will be recorded. Your revivals and highest Floor reached will be reset daily.
Credits Mall: Credits are earned when a Trial Floor is cleared. Hero Shards can be bought with Credits at the Credits Mall. Items in the Credits Mall can be refreshed once daily. Spend Gems to refresh more than once.
Rankings: Displays the current rankings. The highest ranked players will be win Gems. Prizes are given out the next day through the Mailbox. Rewards must be claimed as soon as possible.
Extra Prizes: Winning a Trial often awards extra prizes if certain conditions are met.




5. Arena
Unlocks at Lv 13. Tap Arena to enter this feature.
Participation: Battles in the Arena are fully automatic.
Ranking Rewards: Compete with others for the top rank. Every night at 9pm, the rankings will be consolidated and prizes will be sent through the Mailbox. The higher the ranks, the more Coins and Glory are awarded.
Best Record Rewards: When a player breaks his or her own Arena record, he or she will win Gems based on how much higher is the new record is compared to the previous record.




6. Raids
Unlocks at Lv 27. Tap Arena to enter this feature.
Raiding: Tap the search icon on the bottom right corner to search for an opponent with similar Power. Winning a Raid Battle will award Glory and sometimes steal Hero and Creature Shards from opponents. Players can only Raid up to 15 times a day.
Protection: If a player is raided and loses the Battle, he or she will be protected from further Raids for a period of time based on the number of times the player was successfully raided. You can also use Gems to buy protection.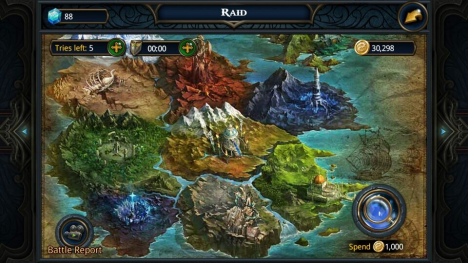 7. The Gauntlet
Unlocks at Lv 27. Tap Secret Region to enter this feature.
Description: In the Gauntlet, players face opponents with similar Powers. Creatures used must be at least 3-Stars and Lv 5. Players will participate in a series of Battles, where their Decks and Heroes won't reset in-between matches. Creatures sent to the Graveyard won't return to the Deck and Heroes' Health won't fully restore. The greatest pleasure is in pushing your Deck to the limit and seeing how far it can go.
Rewards: Along with Coins and EXP, you can also earn Glory and Tokens. Tokens can be exchanged at the Token Mall for 4-Star Hero Shards. Don't hold back, just let loose on this fantastic odyssey!




8. Bazaar
The Bazaar is open to all players who have completed map 3-1 - Blossomborough. You can visit the Bazaar on the main menu to buy various items with either Coins or Gems. The Bazaar refreshes at 9:00 am, 12:00 pm, 6:00 pm, and 9:00 pm daily. However you can refresh it any time with Gems.

Signature
Welcome to Deck Heroes!